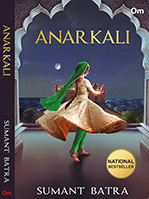 The mystifying presence of Anarkali has loomed in history and in folklore. Only a handful of dubitable details mark her story, the most legendary among which remains the tragic end that her life and love for Prince Salim, the son of Emperor Akbar, met.
In Anarkali, Sumant Batra ventures to piece together the puzzle that surrounds this woman whose silhouette is all that we have known, giving her an identity, a name, a family, and a life beyond the tragic love affair she has come to be identified with.
What comes forth is a saga, fresh and compelling, reflecting the experience of a woman navigating social structures in the Mughal Empire and bearing the consequences of asserting her desires. At the same time, it honours the romance that originally earned Anarkali her name in history and in myth, inspiring within the narrative a treatise on a love earnest and pure, all-consuming and transcendental.
A labour of love that expertly fuses research and imagination, Sumant Batra's evocative prose and attention to period detail are sure to appeal to all lovers of historical fiction.